Floor Lamps: Using a chic and versatile floor lamp in your home is the best way to make your interior look brighter and more beautiful. The right lamp can instantly enhance the look of an area while providing just the right amount of lighting can do.
Here are 10 modern floor lamps that are perfect for decorating your home
1. Reading light floor lamp
If you are looking for an effective floor lamp on a budget, this is a great option. With a calm, elegant and minimalist design, this lamp features a separately adjustable arm that can be rotated while working or reading. The two-floor lamps are also bright enough.

2. Arc floor lamp
Arc lamps are an effective way to add utility and aesthetics to your space. These lamps are a unique and stylish lighting solution for work or reading. Most designs can control bright overhead lights and adjust the height of the lampshades.

3. Tripod shape floor lamp
The tripod floor lamp features a stylish yet sturdy tripod lamp design. They are an eye-catcher in every living room. If your home is traditionally decorated, you can opt for a wooden tripod floor lamp. Tripod lamps with brass posts are very versatile for a more sophisticated and modern look.

4. Simple wooden floor lamp
Recommended for those looking for a floor lamp with a natural atmosphere. Wooden floor lamps are a great complement to both traditional and modern interiors. It has a simple design that is not overly overstated, but still has a solid style.
5. Floor Lamp with Shelves
This lamp is recommended for those who are looking for built-in storage. Regular lamps can add style and charm to a room. However, lamps with shelves can also add practicality. Whether you want to display photo frames, or candles or store small practical items, these lamps look great in any room.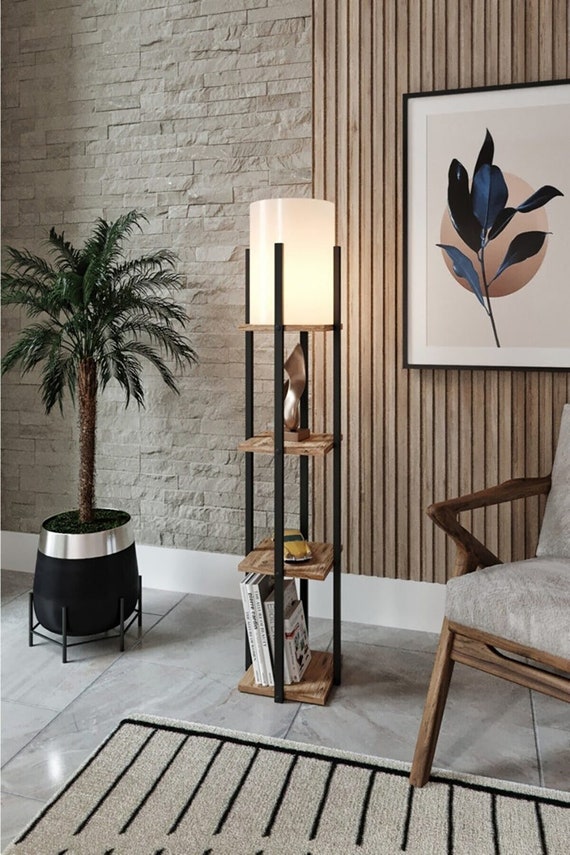 6. Sculptured floor lamp
The sculptural floor lamp is perfect for those who want a lamp that is also a unique work of art. Such lamps work both as lighting fixtures and as works of art that enhance the look of your interior. You can place it in your living room or bedroom to create an eye-catching aesthetic.

7. Tabletop floor lamp
If you are short on space and looking for a functional floor lamp, you can opt for a lamp integrated with the tabletop. This type of lamp looks beautiful and is convenient for storage. You can put it next to your bed and always have your phone, books and water bottle within reach.
8. Hanging lampshade 
This type of floor lamp is perfect for those who want to spice up the look of their bedroom or living room. It features a design that hangs a lampshade that emits beautiful light on a thin stem. Its minimalist design suits any furniture theme and looks very classy.

9. Task floor lamp
This beautiful and decorative floor lamp has an adjustable arm. Perfect for a reading nook. If you love curling up on the couch with your favourite book, this floor lamp is for you. Choose from a variety of finishes including brushed steel and antique brass to match your interior.
10. Tree-shaped modern floor lamp
This kind of living room floor lamp can instantly improve the look and decoration of your space. Modern tree floor lamps have designs with 3 or more bendable lights that can be used individually or simultaneously. Great for reading and general room lighting and a great way to add a modern touch to your living space or reading nook.
Conclusion
Floor lamps are a great addition to any home. There are plenty of options to choose from brass floor lamps with antique designs to modern tree lamps with adjustable bulbs. Consider the features you want and the area you want to place the floor lamp in to make the best choice.