New Delhi: With the progress of time and technology, we are getting more and more dependent on online shopping, food, and many more but as we bear receiving compliance day after day it makes us realise that the old practice of shopping and having food is more trustable. Again there is a case of Zomato in which a man named Vinay Sati shared a conversation between him and a zomato delivery boy on his LinkedIn account.
In the post, he said that he ordered a burger from Burger King and made an online payment and when the delivery boy arrived after 20 to 30min he taught him how he can order food for Rs 700-800 and pay only Rs 200 through COD.
The post received over 600 responses on LinkedIn and was reposted 18 times at the time of publishing this report. This also caught the attention of Zomato CEO Deepinder Goyal.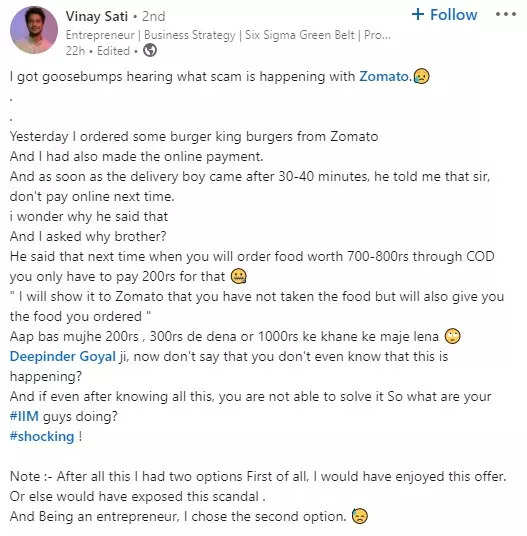 In the comment section, Zomato CEO Deepinder Goyal has answered. "Aware of this, Working to fix the flaws," he wrote. Sati said that he ordered the burger from Zomato and paid for the order online. The entrepreneur tagged Goyal in his post.
The delivery agent suggested that next time pay him Rs 200 or Rs 300 and enjoy a meal worth Rs 1,000. Sati quoted the agent in the post as saying, "You just give me Rs 200, Rs 300 or take Rs 1,000 for dinner."