The Society of Indian Automobile Manufacturers (SIAM) is a link between the ever-growing automotive industry and the Government. The apex body representing the National Automobile Industry - SIAM members' not only include domestic manufacturers such as Bajaj and Tata; but also have healthy participation from overseas manufacturers including Mercedes Benz and BMW. 
The Society of Indian Automobile Manufacturers (SIAM) in its communication to the government has made two major recommendations for the general budget 2016. Primarily, we believe that the duty structure at present is very high for passenger vehicles other than small cars and confusing.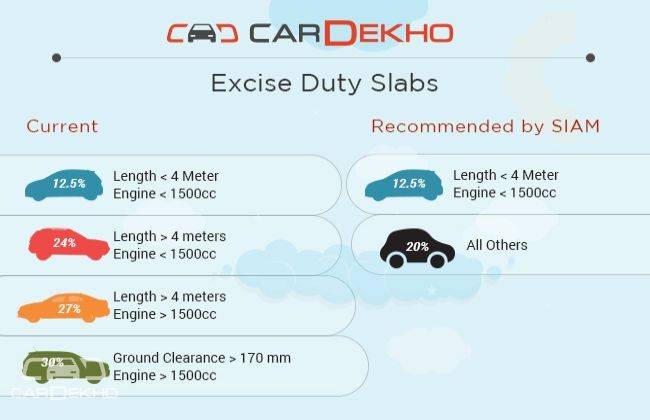 " We have proposed that there should be only two taxation slabs instead of 4 (12.5% for small cars, 24% for vehicles more than 4 meters and less than 1500 CC, 27% for vehicles more than 4 meters and more than 1500 CC and 30% for vehicles with ground clearance more than 170 mm). We have suggested that the slabs of 24%, 27% and 30% be merged into one slab. Keeping in view, the current scenario, we have suggested that the excise duty be 20% for this slab." said SIAM in a statement issued to CarDekho.   Like most public opinions in the CarDekho survey (link to survey article) voiced environmental concerns, SIAM too says the budget needs to include an inclusive vehicle scrapping and fleet modernization scheme. " SIAM believes that very old and ill maintained vehicles pollute more than the modern cars manufactured in recent years. However, automobile purchase is a big investment for most of the people and fleet modernization effort should be based on incentives rather than mandate. Supporting the government's initiative to reduce pollution levels, we have proposed for an incentivization scheme in this regard. "
The apex body also recommends a monetary incentive be provided to buyers scrapping their old vehicles in lieu of new ones. " We urge the government to provide a monetary incentive to those who intend to scrap their old vehicles and buy a new vehicle. This would help the cleansing process. It would help reduce the pollution as old vehicles with lower emission standards would be removed from the roads. It would also promote the sales of new vehicles with higher safety standards and fuel efficiency, which will help the society at large."
SIAM's recommendations truly keep the best interest of the auto industry at heart. The reduction in excise duty will give the manufacturers a bit of breathing space to price their offerings more competitively. As seen with the sub 4-metre rule, the manufacturers can pass on the benefits to the end customer. The scrappage scheme recommendation is a welcome move too. It will enable ill-maintained, polluting vehicles to be taken off the roads. Along these lines, we wish the Government allows for a 'fitness test' of old vehicles as well.We fervently hope that the Government acts along these lines. 
CarDekho
Union Budget 2016: What SIAM recommends!