India boasts of one of the largest automobile industries in the world. With production being well over 20 million units a year, the industry contributes significantly to the country's GDP. In fact, the vision of the Automotive Mission Plan 2006 - 2016 was "To emerge as the destination of choice in the world for design and manufacturing of automobiles and auto components with output reaching a level of US $ 145 billion, accounting for more than 10 per cent of the GDP and providing additional employment to 25 million people by 2016."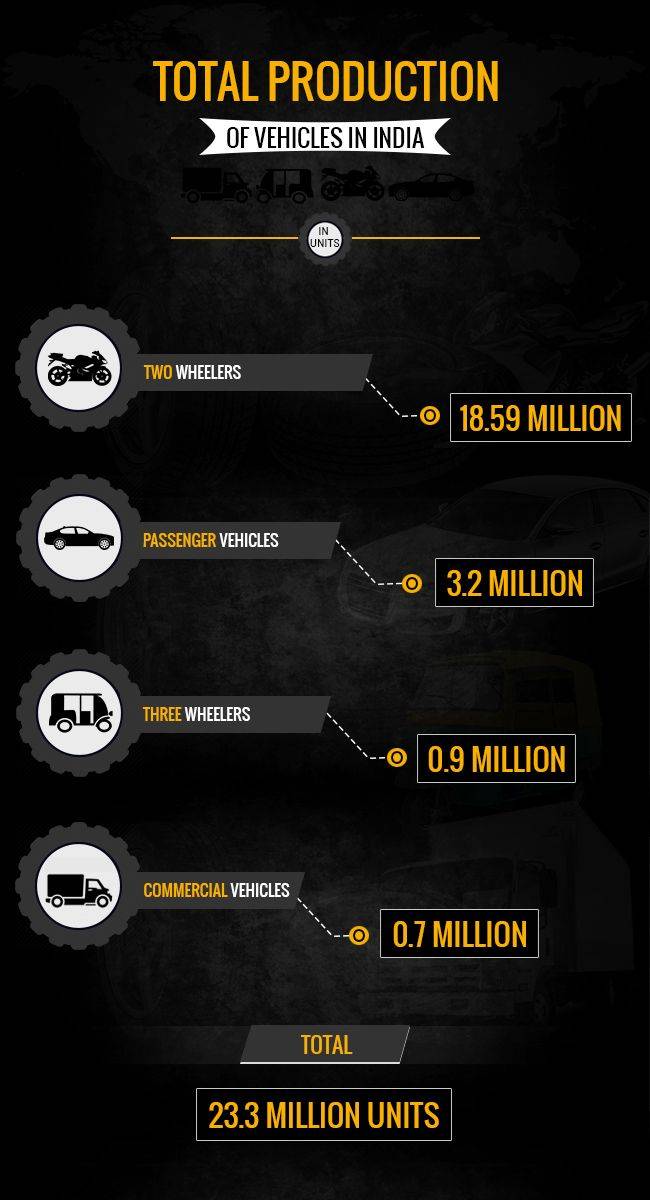 It is 2016 and the current trends show that the industry falls short of the target by 25% with the output at US $ 110 billion levels. With the new Automotive Mission Plan 2016 - 2026 being chalked out The Government of India aims to make automobile manufacturing the poster boy of the "Make in India" initiative. It envisions the passenger vehicles market to triple from the current 3 million to 9.4 million units by 2026.
Kaher Kazem, President & Managing Director, General Motors India said "We look forward to initiatives that continue to support the Make In India program, through a constructive partnership between business and government. Regulatory stability is also critical to the long term success of the automotive industry, as is continued investment in infrastructure." General Motors plans to invest US$ 1 billion in India by 2020. The investment will be directed towards increasing the capacity at the Talegaon plant in Maharashtra from 130,000 units a year to 220,000 by 2025. Chevrolet recently took wraps off the updated Cruze and also showcased their upcoming MPV - the Spin at the 2016 Auto Expo.
SIAM, the apex body of the Auto Industry in India recommended  the Government of Indiato simplify the excise duty slabs for passenger vehicles. It believed that the current duty is not only high, but the structure is confusing as well. " We have proposed that there should be only two taxation slabs instead of 4 (12.5% for small cars, 24% for vehicles more than 4 meters and less than 1500 CC, 27% for vehicles more than 4 meters and more than 1500 CC and 30% for vehicles with ground clearance more than 170 mm). We have suggested that the slabs of 24%, 27% and 30% be merged into one slab. Keeping in view, the current scenario, we have suggested that the excise duty be 20% for this slab." 
There are active voices from the industry (SIAM included) for an inclusive vehicle scrapping policy. The scrapping policy can be a key driver for consumers to swap their old cars for newer ones. Needless to say, new cars are far more eco-friendly as well as efficient than their older counterparts. Mr. Sumit Sawhney, Country CEO and MD - Renault India said "Another longstanding request is the introduction of a scheme for scrapping of old vehicles which will keep older cars off the roads. This will benefit the environment, reduce fuel consumption and also propel further demand for greener and efficient vehicles." 
Hyundai India too, had a similar opinion. "We expect the government to consider Vehicle Scrappage Policy for older vehicles which are low on fuel efficiency and high on emissions." said Hyundai India in a statement issued to CarDekho. Hyundai believes that the sentiment of the Indian Auto Industry is of 'cautious optimism'. "We expect the government will initiate policy measures to further investments which will create employment and sustain the positive GDP growth above 7%" they added. 
In our survey, 70% of buyers would be interested in hybrid vehicles if relevant sops are extended for them.  "The sops are being given by Govt. to consumers. Need is to build infrastructure for the electric vehicles. Creating Charging stations and other infrastructure to support industry is must. Many companies have offered in past but could not get traction in absence of clear policy and infrastructure. Our partner Lohia Auto is working on many such initiative  to bring the new technology and offer the best products in coming months." said Mr. Rajeev Mishra, Director- UM India. 
Mr. Sumit Sawhney, Country CEO & MD - Renault India said : "We look forward to policies that will create more incentives for environment-friendly vehicles. With the Government stipulating that India will directly move from Bharat Stage IV to VI emission norms in 2020, companies have their task cut out in earmarking investments for new technologies. It is in this context that the auto industry is hoping that the Centre will offer substantial incentives to promote hybrid and electric cars, and also develop the necessary infrastructure to make this a viable solution."
Other than these, the Auto Industry as a whole is banking on the implementation of the GST. Joe King - Head of Audi India said, "The simplification of tax structure will be a big step forward as currently differential pricing and taxes across states makes it very complicated. Therefore introduction of GST will go a long way in helping in ease of business." Mr. King was kind enough to answer more questions about the Union Budget 2016 which you canread here. Echoing a similar sentiment, "A uniform GST policy will provide a uniform tax regime and boost the business environment." commented a spokesperson from Hyundai India. 
On asking about the top 3 things to expect from the Union Budget 2016, Tom von Bonsdorff, Managing Director, Volvo Auto India said,
i) We would like the budget to spell out a clear roadmap for implementation of the new GST regime. We would also seek a policy clarity on manufacture and use of diesel vehicles not only in Delhi and NCR but also across the country through a regulatory framework.
ii) Auto sector seeks guidelines/policy for pollution and safety. The pollution level is increasing across the cities and we hope the government would announce appropriate measures/incentives in the budget to deal with the situation on this.
The car sales are increasing in India with ignored safety measures, recently NCAP (body that regularly crash tests cars in Europe) has done test on Indian cars to check the UN safety and most of the car have failed to qualify. Hence we look positive for a policy on the safety measures.          
iii) Auto sector seeks support for promoting hybrid and electric vehicles. Extending the sunset clause period for such excise and custom duty concessions beyond March 2016 would give a big boost to the hybrid/electric vehicle industry.
There were also some inputs from Triumph Motors. A company official said, "As iterated by SIAM, uniform excise duty on passenger cars, an excise duty cut and implementation of GST are top priorities for automobile industry. We should hopefully get some clear indications on the government's thinking on GST in the 2016 budget. Moreover, SIAM has recommended 200 per cent weighted deduction should be extended to R&D facilities, one of the key factors for sustained economic growth, which is currently outsourced to third-party service providers or other institutions." 
The Indian Auto Industry does seem bullish about the budget. Manufacturers are also pinning hopes on tax rationalization so that the consumers have higher disposable incomes. Stay tuned to CarDekho for more updates from the 2016 Union Budget!
CarDekho
Union Budget 2016 - What does the Auto Industry Expect?