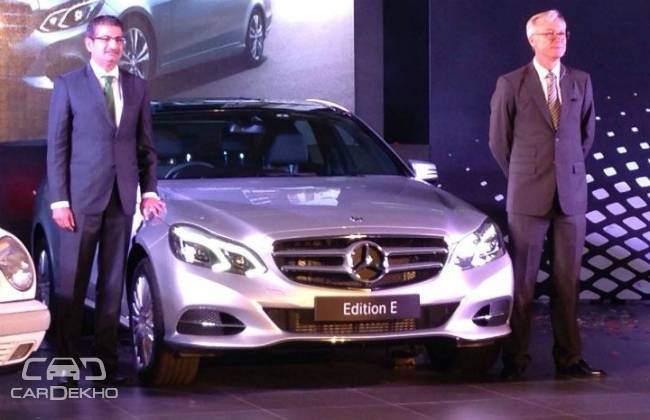 Celebrating 20 years of the production of E-Class in India, Mercedes-Benz has launched E Class - Edition E today in the Indian market. MB E200 'Edition E' is priced at Rs. 48.60 lac, E250 CDI 'Edition E' at Rs. 50.76 lac and E350 CDI 'Edition E' at Rs 60.61 lac (ex-showroom Pune). This is an addition to their 12 model portfolio for the year 2016. Mercedes claims that E-Class has the "longest tenure of local manufacturing for any luxury car model in the country." The German auto giant has sold over 32,000 units of the E-Class since the beginning of its production in India in 1995. 
Additions
Inside, Edition E features various attributes like SD card navigation, MB Apps, sporty brake pedals, THERMOTRONIC automatic air conditioning, memory seats with three settings, active park assist with camera and high resolution color media display (20.3 cm). On the outside, it boasts an 'Edition E' badge, so as to stand out in a crowd of other E-Class sedans. Other than that, it has an illuminated front star, black hub caps, new look fibre-optic tail lights, electric panoramic sunroof with PRE-SAFE closing function. 
Engine
The car's 3 variants features 3 different drivetrains. The E200, E250 CDI and E350 CDI have a 1991cc, 2143cc and 2987cc engine respectively. The power figures stand at 184hp @ 5500rpm along with 300Nm torque @ 1200-4000rpm for E200, 204hp @ 4200rpm with 500Nm torque @1600-1800rpm for E250 and 265hp @ 3800rpm with 620Nm torque @ 1600-2400rpm for E350.
Safety
On the safety front, the car is very well equipped with systems like the Adaptive airbags and NECK-PRO head restraints PRE-SAFE system. What this translates to is that the 'Edition E' comes with 8 airbags and a preventive occupant protection system as standard. It recognizes critical driving situations and initiates preventive occupant protection measures. The NECK-PRO head restraints for the driver and front passenger can be activated in a rear impact - a spring mechanism moves the head restraints to reduce strain on the spine. The car also features 'Adaptive brake lights' which flashes red warning signal from the tail lamps when emergency braking is recognized. The Intelligent Light System of the LED headlamps feature an intelligent light system that adapts light distribution as per the driving situation. The adaptive systems illuminate the road ahead without dazzling other road users. 
Roland Folger, Managing Director and CEO, Mercedes-Benz India, on the launch commented, "It is a moment of immense pride for us that the E-Class which is the highest selling luxury sedan in India, completes 20 glorious years of production in India. The E-Class whichwas the first luxury sedan to be produced by Mercedes-Benz for the Indian market, also kick started our journey in India. 20 years of E-Class in India, also reiterates the influence of brand Mercedes-Benz on customers and its contribution towards the evolution of luxury motoring in India.We are commemorating this stupendous production accomplishment with the launch of a special 'Edition E'. The launch of the 'Edition E' strongly underlines our strategy of periodically refreshing our existing best-selling products, enabling to win customer confidence and offer them value driven products." He further elaborated, "With the introduction of the 'Edition E', we are also launching an exciting brand campaign called 'Wish upon a Star'. 'Wish upon a Star' campaign commemorates 20 years of the E-Class'legacy in India and brings to fore the fact that, the E-Class has been the heart and soul of motoring enthusiasts across the country over the years. In these 20 years we have delivered 32,000 E-Classes to our customers that have dominated the mid-size luxury segment in India. Every new generation of the E-Class has redefined the segment and created a new benchmark."
Commenting on the occasion of 20 years of E-Class in India, Piyush Arora, Executive Director, Operations, Mercedes-Benz India commented, "20 years of unhindered production of the E-Class, strongly underscores the high level of refinement and implementation of advanced technology and flexible processes in our production facility. The E-Class' production quality conforms to the most stringent global Mercedes-Benz standards, and has been creating new benchmarks in manufacturing of luxury cars in India. The unmatched success of the E-Class over these two decades has truly defined luxury motoring in India and the product clearly remains a step ahead of the competitive offerings in the market."
CarDekho
Mercedes Benz E-Class Edition E Launched at Rs. 48.60 lac