HYUNDAI IONIQ IS THE WORLD'S FIRST VEHICLE TO FEATURE THREE GREEN POWERTRAINS - HYBRID, ELECTRIC AND PLUG-IN HYBRID 
Hyundai has detailed their new Ioniq green vehicle, which will be available in three types of powertrain - Ioniq Hybrid, Ioniq Electric and Ioniq Plug-in. The vehicle will have its public debut at the upcoming Geneva Motor Show 2016.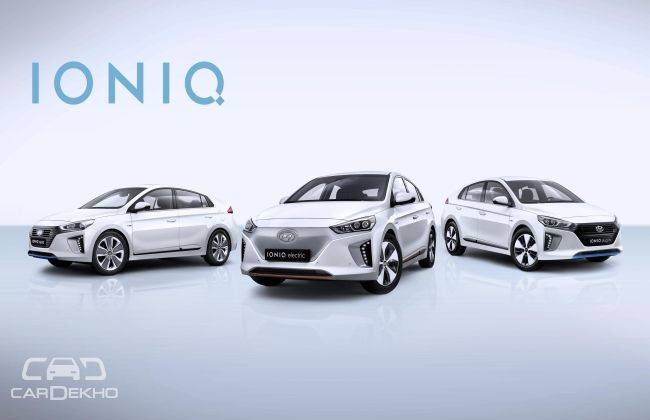 Speaking of the powertrains, the Ioniq Hybrid and Ioniq Plug-in hybrid both feature the new Kappa 1.6-litre GDI, direct injection petrol, four-cylinder engine, delivering 105 PS and 147 Nm of torque. Hyundai claims a class-leading thermal efficiency of 40 per cent.Unlike its segment, Ioniq Hybrid is mated to a six-speed double clutch transmission. The Ioniq Hybrid's electric motor delivers 43.5 PS with maximum torque of 170 Nm, powered by a lithium-ion polymer battery with 1.56 kWh capacity positioned under the rear seats. In combination with the 1.6-litre GDI engine, it offers a system output of 141 PS and up to 265 Nm of torque. The company claims that it can  accelerate to a top speed of up to 185 km/h with targeted CO2 emissions of 79 g/km (combined).
Coming to the Plug-in Hybrid, besides the 1.6-litre GDI petrol motor, it has 61 PS electric motor with 8.9 kWh lithium-ion polymer battery. The car offers approximately over 50 kilometres (31 miles) of estimated pure electric driving range and  targets CO2 emissions as low as 32 g/km. The zero emission all-electric Ioniq Electric offers a 28 kWh Lithium-ion Polymer battery for an estimated range of over 250 km (155 miles). The motor in this chucks out 120 PS and 295 Nm of max torque available instantly. It comes with a single-speed reducer transmission accelerating the car up to 165 km/h. 
CarDekho
Hyundai Details Ioniq Prior to the 2016 Geneva Motor Show