Seoul, Sep 3: South Korea's military today said that North Korea is believed to have conducted its sixth nuclear test after it detected a strong earthquake, hours after Pyongyang claimed that its leader has inspected a hydrogen bomb meant for a new intercontinental ballistic missile. 
South Korea's weather agency and the Joint Chief of Staff said an artificial 5.6 magnitude quake occurred at 12:29 p.m. local time, in Kilju, northern Hamgyong Province. The US Geological Survey called the first quake an explosion with a magnitude 6.3.
Shortly after, Yonhap news agency said a second quake was detected with a magnitude 4.6 but South Korea's weather agency denied another quake occurred. There was no word from the military in Seoul about the possible second quake. 
North Korea conducted its fifth test last year in September. If confirmed, the latest test would mark yet another big step forward in North Korean attempts to obtain a nuclear-armed missile capable of reaching deep into the US mainland.
The US State Department had no immediate reaction. South Korea's presidential office said it will hold a National Security Council meeting chaired by President Moon Jae-in.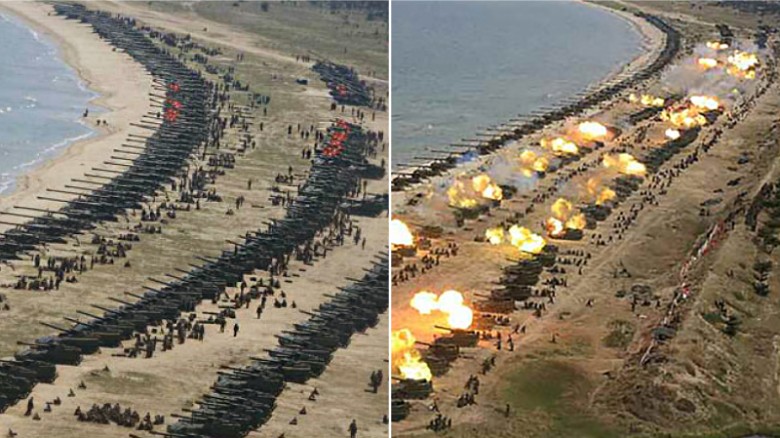 North Korea conducted two nuclear tests last year and has since maintained a torrid pace in weapons tests, including flight-testing developmental intercontinental ballistic missiles and flying a powerful midrange missile over Japan.
Earlier today, photos released by the North Korean government showed Kim talking with his lieutenants as he observed a silver, peanut-shaped device that was apparently the purported thermonuclear weapon destined for an ICBM. 
What appeared to be the nose cone of a missile could also be seen near the alleged bomb in one picture, which could not be independently verified and which was taken without outside journalists present. Another photo showed a diagram on the  wall behind Kim of a bomb mounted inside a cone.
As part of the North's weapons work, Kim was said by his propaganda mavens to have made a visit to the Nuclear Weapons Institute and inspected a "homemade" H-bomb with "super explosive power" that "is adjustable from tens (of) kiloton to hundreds (of) kiloton."
PTI