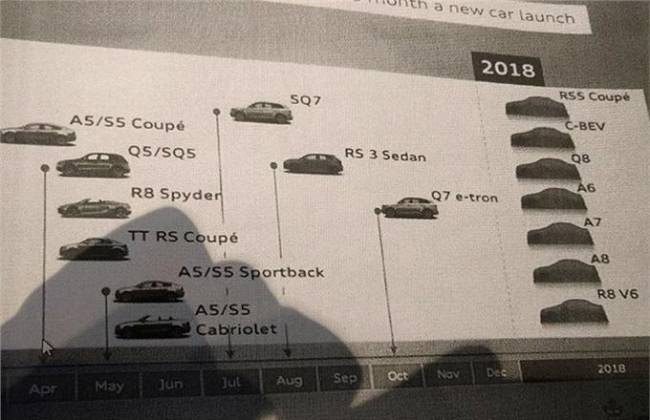 With the Q2 being constantly teased in a clever manner, people around the globe await curiously for Audi's upcoming products. We don't wish to be a spoilsport but, a peek into Audi's future production lineup has been leaked on the internet. This peek also reveals details about the 2018 lineup which includes a new A8 and an R8 V6. The picture lays out a detailed plan for the year 2017 and only displays shaded icons for the year 2018.
The list for 2017 includes A5 / S5 Coupe in March, Q5 / SQ5 SUV, R8 Spyder and TT RS Coupe in April, A5 / S5 Sportback and A5 / S5 Cabriolet in May, SQ7 SUV in July, RS3 Sedan in August and finally, Q7 e-tron in October. The 2018 lineup consist of RS5 Coupe, C-BEV, Q8, A6, A7, A8 and a base V6 variant of the R8 supercar.
The best part of this image is the presence of Q8 and C-BEV. Where Q8 will be an SUV, which will compete the German trio by adding to BMW X6 and Mercedes-Benz GLE450 AMG, C-BEV is expected to be an all electric Q6 equivalent SUV.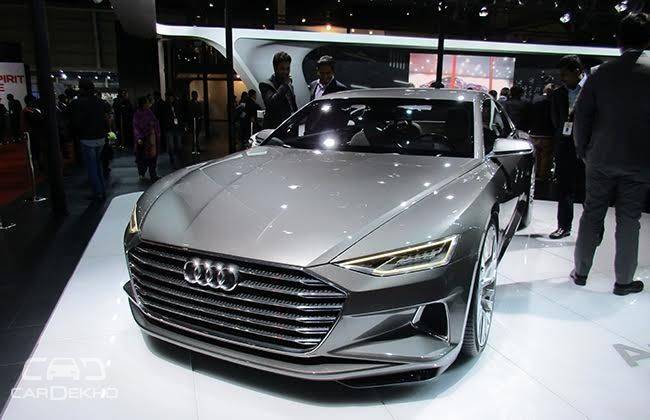 The new A8 might be based on the Prolonged Concept which was showcased at the 2016 Auto Expo. It is inspired from the Audi 90 Quattro IMSA GTO race car from 1989, original A8 and TT. It has huge dimensions and looks an Audi from every single angle. Audi's first half of 2017 seems to be relatively full with 6 models being on the list. What remains to been seen is that whether this image represents the launches or other internal strategical decisions. 
CarDekho