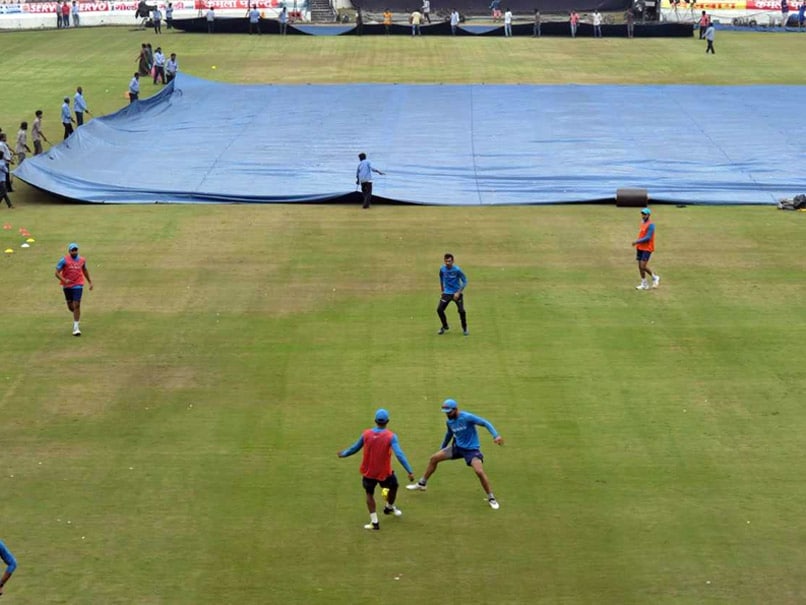 Thiruvananthapuram, Nov 5: All preparations for the Twenty20 International (T20I) against New Zealand to be held here on Tuesday complete, but what about the rain?

The meteorological office here has predicted that the weather will be generally cloudy with a few spells of rain or thundershowers starting from Sunday till Wednesday.

But Jayesh George, secretary of the Kerala Cricket Association , told IANS that the saving grace is that this state of the art ICC and FIFA compliant stadium located in the city has excellent drainage facilities.

This is the first ever T20I to be staged in Kerala and is being held at the Greenfield Stadium, which was the venue of the opening and closing ceremonies of the 2015 National Games.

"The super soppers and other facilities are all there and even if it rains during the match time, in 10 minutes after the rain stops, the match will be able to resume," said George.

The state capital is staging an international cricket match after a gap of almost three decades when the Vivian Richards led West Indies side played the last of the seven ODI matches against India here on January 25, 1988 at the University Stadium.

The Caribbean side smashed the Indian side led by Ravi Shastri, the present Indian coach, by winning by nine wickets.

"Every ticket has been sold out and it was a tough time to pacify those who failed to get one. Our phones are ringing all the time with passionate pleas for a ticket. We are totally helpless , as we are unable to satisfy the callers' need for a ticket," said a top official of the Federal Bank who are the official bankers to the match and entrusted with selling the tickets.

The seating capacity of the ground is close to 50,000 and IG of Police Manoj Abraham entrusted with the security arrangements said that 2500 police officials will be on duty at the ground.

"Only mobile phones will be allowed to be taken inside and nothing else," said Abraham.

New Zealand are arriving here close to midnight on a chartered flight and both the teams will be in the stadium on Monday for a practice session.

Tomorrow afternoon a few Indian players including captain Virat Kohli will take part in a programme of the Kerala government, 'Say yes to Cricket, No to Drugs', which will be inaugurated by Chief Minister Pinarayi Vijayan.

Security in the capital city has been considerably beefed up on account of the match.
 
IANS