New Delhi: India's consumer price index (CPI) inflation broke its streak and rose for the first time in five months to 4.81 per cent in June 2023. in the previous month the CPI stood at 4.31 per cent.
The rise in inflation rate recorded was affected by the surged vegetable prices and the fading away of the favourable base effect, as per the data released by the Ministry of Statistics and programme implementation on July 12.
The CPI inflation in June at 4.81 per cent is in line with the Reserve Bank of India (RBI)' forecast of 4.61 per cent for the june quarter of the financial year 2023.
The newest consumer price inflation rate exceeds the experts' estimates.
The hike in the price of vegetables whose index climbed 12.2 per cent from May, even though the year-on-year inflation rate of (0.93) per cent showed vegetable prices were low in comparison to that of june 2022.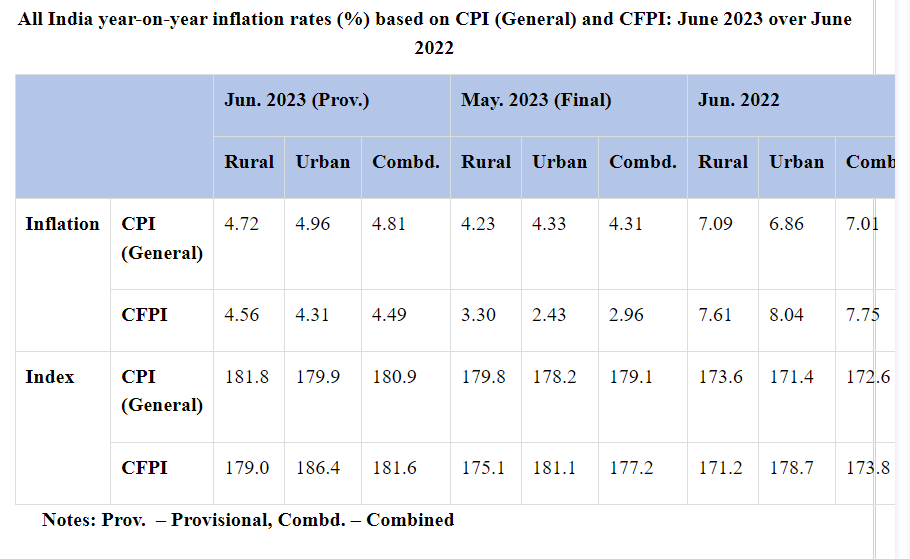 The collected price data is from 1114 urban markets and 1181 villages covering all states/ UTs collected from in-person visits by field staff of the Field Operations Division of NSO, MoSPI on a weekly schedule. In June, NSO collected data from 98.9 per cent of villages and 98.4 per cent of urban markets.
Meanwhile, the reported prices for the rural stood at 88.2 per cent and 92.4 per cent for urban.
(Written by – Mahek Nigam
Edited by – Prateek Gautam)